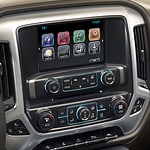 Apple CarPlay is software that integrates your iPhone and vehicle's infotainment or audio system. The system is designed to improve convenience and minimize distractions by making frequently used apps available on your infotainment display. Apple CarPlay reduces the need to use your phone while driving. The software has been around for about eight years and has received many updates since then.
The ultimate goal of Apple CarPlay is to improve safety while driving. The most common functions of Apple CarPlay include calendaring, phone calls, music, GPS navigation, and text messaging. Once the system is in use, it usually overrides your vehicle's audio or infotainment system's native controls.
The system is typically simple to set up in most vehicles. A USB cable is used to connect your iPhone to your infotainment or audio system. For additional information, contact Diamond Jim's in Greenfield, WI serving Waukesha.