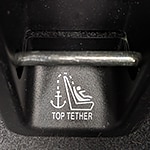 Having the wrong car seat for your child can be dangerous. However, with so many different car seats available, it can be confusing to choose the right one. It is essential to select a seat that is appropriate for your child's age, weight, and height and that will fit in your vehicle. The following are types of children's car seats.
Rear-Facing Car Seat: Best child seat. In a crash, the harness hugs & moves with your kid to protect their neck and spinal cord.
Forward-Facing Car Seat: Includes a safety belt and tether to prevent your child from moving forward in the event of a collision while driving near Greenfield, WI.
Booster Seat: Positions and elevates a child so that the vehicle's lap & shoulder belt can be worn over their hips and chest, where they are the strongest.
Seat Belt for older children: If you want to keep your child safe in an accident, the safety belt should lie over their upper thighs and be firm across their shoulders and chest. It should not be allowed to lay on the stomach region, nor should it go across the neck or the face.