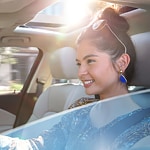 Choosing your teen's first car can be a devastating task. You want to purchase a reliable vehicle that best suits them. One of the top factors to consider is the vehicle's price. If you want to purchase a vehicle without breaking the bank, you can purchase a used model of your teen's dream vehicle.
A certified mechanic should inspect used vehicles to ensure that it is in good condition. Safety is a priority when purchasing a vehicle. Ensure that the vehicle is equipped with the latest safety features, such as an emergency braking system. You can add extra safety features if the need arises.
Choose a model with a reputation for being reliable and having low maintenance costs. It is also important to consider the fuel efficiency of the vehicle. A fuel-efficient vehicle will save you money in the long run.
The performance of a vehicle consists of aspects such as power and handling. Choose a model with good handling to avoid accidents. If your teen plans on using it for long-distance travel, choose a model with comfortable seats and ample legroom.