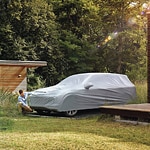 Car covers are an essential aspect of vehicle maintenance. Unfortunately, many drivers near Waukesha, WI still haven't explored the benefits of having a car cover for their vehicles. A quality cover will help maintain the quality of your vehicle and protect your investment. Here is why a car cover is so essential for your vehicle.
Your vehicle is prone to damage every day. For this reason, it's a good idea to invest in a cover to increase protection. Things like the sun, tree saps, and chemical fallouts can damage your vehicle. Luckily, a car cover will protect your vehicle in several ways.
For instance, covers keep your paint from fading and scratching. It also minimizes the risk of your interior discoloring and cracking. If your vehicle has a vinyl or convertible top, a cover will prevent it from disintegrating. Lastly, a cover will protect your vehicle from getting dirty, especially in rainy and snowy seasons.