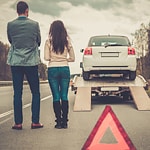 Being prepared to handle an emergency while driving is important. Staying calm is essential, and you should also be prepared with a roadside emergency kit. Diamond Jim's is here to tell you what it should include.
A tire pressure gauge, jumper cables, and flares are the basics for your roadside emergency kit. You should also carry one quart of motor oil and a gallon of coolant, especially if your vehicle has a known issue that causes it to leak or lose these liquids. A simple toolkit may also help you get back on the road.
Naturally, you will not be able to fix all problems on your own. For that reason, you need a cell phone and charger in your kit. While you wait, you will want water, food, and a blanket to keep you warm. In the winter, consider adding gloves and a hat as well.